Karen Eddings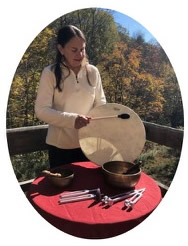 Live and Age Well
A Journey in Self-Care with Food, Sleep & Sound as Medicine
Throughout her forty-five years as a registered nurse, Karen Eddings has seen close-up how our traditional
healthcare
system has changed into a
sick-care
system. Her mission, along with many other advocates for reform discussed in this book, intends to bring
health
back to healthcare by encouraging more emphasis on self-care using our body's innate power to heal through nutrition, sleep, movement, stress and self-awareness and more.
In this practical guide to better health and well-being, the author describes her own self-healing journey from chronic illnesses to abundant wellness, energy, and health at the age of sixty-six. She provides a fresh perspective on how our minds and bodies can heal themselves, drawing both from her work in traditional medicine and her rich experience as an integrative healing practitioner.
Karen has dedicated much of her life to researching, experiencing, and teaching holistic nutrition, yoga, medical chi-gong, breath and mindfulness, iridology, reflexology, biofeedback, and sound healing. Karen's passion for health and deep knowledge of healing shines through every topic she covers. In
A Journey in Self-Care to Live and Age Well with Food, Sleep and Sound as Medicine
, Karen explains how our minds and bodies are created to heal themselves through self-regulation, self-care, nourishing foods, and movement. She shares how we can influence our mental and emotional health and the "gut-brain connection" through the healing power of sound, restorative sleep, mindfulness, and connections with the earth.
Throughout our lifespans, we all age, and this book is not an "anti-aging" book. The research, recipes, reflections, and exercises included in it, however, provide you with the tools to live and age well through a flexible, common-sense approach to emotional, mental, and physical well-being.
People from all walks of life can benefit from Karen's:
Personal accounts of healing and being healed;
Clear descriptions of the science behind ancient lifestyle practices;
Explanation of the emerging field of epigenetics and how our lifestyle choices influence our genes promoting health or disease;
Reasons why and therapies to nourish our cells for living long and well.
This book also includes bonus sections on how to access your ketones, (energy molecules) with a vegetarian lifestyle; food as medicine and creating your wellness kitchen; and wellness for your pet and the planet. Plus…why and how to use CBD for you and/or your pets.
Whether you're in need of a total lifestyle makeover or just a few changes to help you feel better,
A Journey in Self-Care
offers the wisdom, insight, and tried-and-true practices you need to live and age well.
"The future of healthcare will be preventable, personalized, predictable, and participatory.
" Deepak Chopra, MD, Founder of the Chopra Center and clinical professor of medicine at the University of California School of Medicine at San Diego
Coming soon!